With valerie_objects celebrating their fifth anniversary, design duo Muller Van Severen created two special lighting objects that set the celebratory mood. Ceiling lamp n°4 and n°5 reflect the shape of garlands and serpentines, drawing playful and colourful lines in space. The lamp is made of steel, thus unbendable. These frivolous lamps are available in the meticulously selected playful colours that is so typical to the oeuvre of Muller Van Severen. 'We want to make people look at the architecture of the home again, at the walls and the ceiling', Hannes Van Severen explains. These lamps lead the eye'. That's what design should do: tie the room together to create one story: the tale of the owner.
professionals
Are you a professional? Visit our portal for professionals here.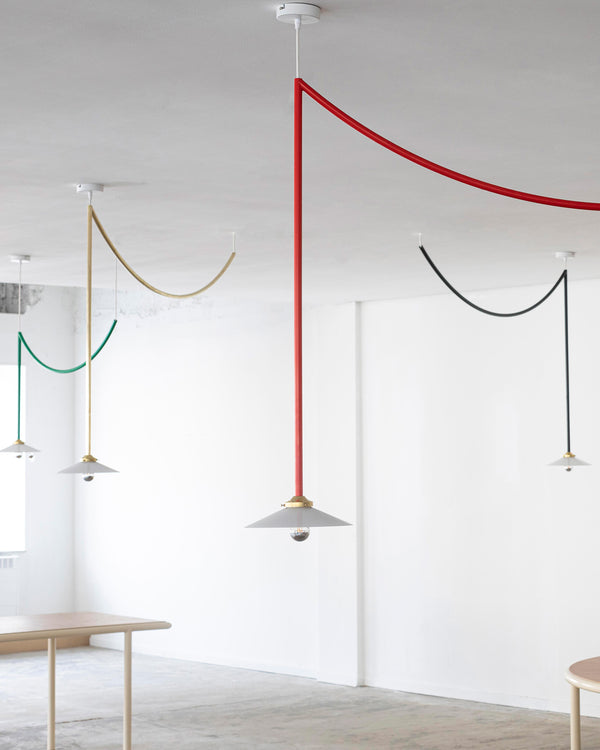 ceiling lamps n° 1/2/3/4/5
by muller van severen
Together with the hanging lamps, these ceiling lamps are the first design objects Fien Muller and Hannes Van Severen created as a design duo back in 2011. They presented the objects during a solo exhibition at Valerie Traan, the gallery of valerie_objects' art director. The lamps appear to be almost naive drawings materialized in the air, adding a playful line of color to the space. The design is utterly simple, consisting of nothing more than a bended and lackered steel tube and an archetypical lampshade on top. "Initially we dug up the lampshade at a flee market." Hannes Van Severen says. "It has a fantastic form: perfectly neutral." It is this sense of clarity that Muller Van Severen is renowned for. Just as their other furniture, the ceiling lamp creates space rather than filling it up.